Pay once and you own the domain for life, with no renewal fees!
NFT domains on blockchain are the newest innovation in the web and non-fungible token (NFT) industry. Part URL, part collectible, these fascinating assets are becoming the hottest new crypto in town.
Get your slice of the new internet, buy your NFT blockchain domains here!
As the NFT domain name industry continues to experience strong growth, the huge demand for .crypto domain names shows the importance of securing one's decentralized web assets.
Be quick! Don't miss your chance to get your hands on the most prestigious NFT domains!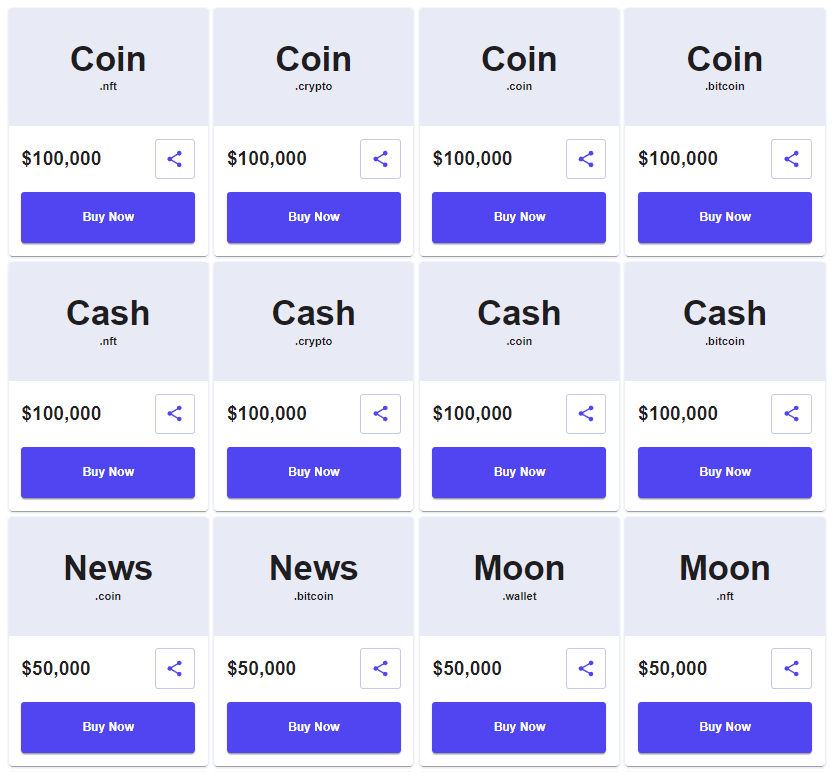 PAY ONCE AND KEEP FULL CONTROL FOREVER!
Blockchain domains are stored by their owners in their wallet as a cryptocurrency, no third party can take them away. Pay once and you own the domain for life, with no renewal fees! No one can deactivate, modify, or transfer domain records without a user's permission.
New internet domain extensions are blockchain-based digital assets (NFTs). These extensions are self-managed, you store them yourself with a private key, just like a cryptocurrency.
List of new extensions:
.BITCOIN
.BLOCKCHAIN
.CRYPTO
.COIN
.DAO
.NFT
.ZIL
.888
.WALLET
.X
Claiming is the process of pushing your domain to the blockchain. This process takes 5-10 minutes depending on network congestion. Once completed, you have full custody of the domain. You will be asked to verify your email address when connecting a wallet and claiming your domains.
About Unstoppable Domains
Unstoppable Domains is a San Francisco-based company that creates blockchain-based .crypto NFT domains. These domains replace cryptocurrency addresses with human-readable names and are powered by Ethereum and Zilliqa blockchains.
Learn more about Unstoppable Domains » Official website

Keep your crypto secure, everywhere!
The Ledger Wallet is the most advanced cryptocurrency wallet for securely holding and using cryptocurrencies. Keep your assets safe as they generate revenues. You can grow your crypto by staking your Tron, Cosmos, Tezos, Algorand or Polkadot directly in Ledger Live.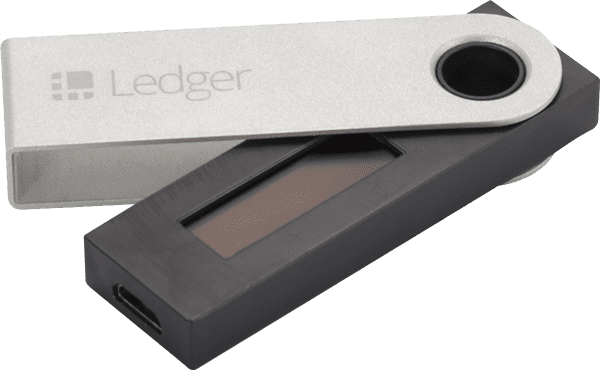 Install up to 100 crypto applications at the same time on your Ledger Nano X. More than 1500 cryptocurencies supported, including Bitcoin, Ethereum, Litecoin…
Learn more about the Ledger Nano » Official website
*Risk Disclosure: Cryptocurrencies are complex and are risky investments based on their highly speculative natures and the uncertainty of the market. They are not legal tender, nor are they supported by a government or central bank. The value of a cryptocurrency is entirely derived by international market forces, such as global supply and demand, and as such the value is volatile. Bitcoin & Cryptocurrency trading may not be suitable for all investors, please ensure that you fully understand the risks involved. Seek independent expert advice if necessary.
Disclaimer: Information provided in the weekly market report is for information purposes only and should not be interpreted as investment, legal, or tax advice. Prior to investing, it is very important to evaluate your investment objectives and your risk tolerance carefully. This technical report is not meant to provide guarantees of future performance, and users should not rely on it, as the actual performance and financial results may differ significantly.